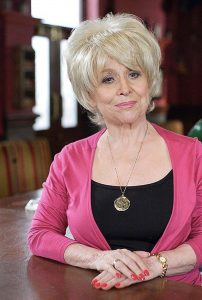 Dam Barbara Windsor
Dame Barbara Windsor has moved to full-time residential care after her Alzheimer's worsened during lockdown.
The 82-year-old former EastEnders and Carry On film star has gone to a home in London.
Scott Mitchell, her husband, said the decision had been taken on the advice of her neurologist.
Mr Mitchell told The Sun:
"I feel I'm on an emotional rollercoaster.
"I walk around, trying to keep busy, then burst into tears.
"It feels like a bereavement.
"It's always been my biggest fear that one day I would have to take her somewhere and she'd be thinking: 'Why would he do this to me?'
"That fear has become a reality.
"It's something I never wanted."
Mr Mitchell said about leaving his wife at the centre:
"I'll never forget the feeling of emptiness.
"I felt sick in the pit of my stomach that I'd left her.
"I still feel like that."