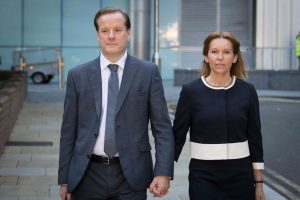 The wife of a former Tory MP found guilty of sex crimes has dumped him on Twitter.
Natalie Elphicke had been married to Charlie for 25 years.
He has been found guilty of three charges of sexual assault.
After the trial Ms Elphicke, who replaced her husband as MP for Dover, posted to Twitter:
"Today's verdict is one that brings profound sorrow.
"It ends my 25-year marriage to the only man I have ever loved.
"I would ask for some personal space and time to come to terms with the shocking events of the last three years."
Elphicke, an MP for nine years, wept in the witness box as he admitted cheating on his wife.
He denied the charges.
Mrs Justice Whipple released Elphicke on bail until sentencing in September.
She warned him: "There is a very real possibility he faces immediate custody."
Natalie Dawson, CPS Specialist Prosecutor, said Elphicke had "lied repeatedly about his conduct and failed to take responsibility for his behaviour".
She added: "Charles Elphicke abused his power and influence over these women to make unwanted and forceful sexual advances towards them.
"The assaults have had a profound impact on these women – who feared for their careers if they reported him."
Elphicke, 49, pounced on one of his victims as they shared a glass of wine.
Southwark Crown Court heard how he talked "suggestively" about bondage and whips before putting his hand down her blouse.
When she pulled away he chased her around the kitchen trying to slap her bottom.
It was "like a scene from a Benny Hill sketch" the jury heard.
He was chanting "I'm a naughty Tory".