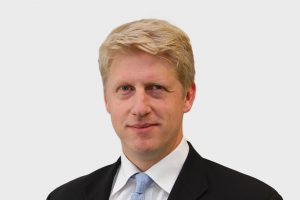 Jo Johnson
Prime Minister Boris Johnson has sent his brother Jo to the House of Lords.
Jo quit parliament last year in protest at Boris' Brexit policy.
And, he campaigned hard for Remain and a second referendum.
Other names on the list of peerages include former England cricketer Sir Ian Botham and Russian newspaper owner Evgeny Lebedev.
Former Scottish Tory leader Ruth Davidson has been made a peer.
And former chancellors Philip Hammond and Ken Clarke – who both lost the Tory whip – have also been elevated.
Nigel Dodds, the former deputy leader of the DUP, has been rewarded with a seat in the Lords.
Theresa May's husband Philip has been handed a knighthood for "political service".
There are no honours for the former Commons Speaker John Bercow.
He'd been nominated by former Labour leader Jeremy Corbyn.
Bercow is the first Speaker not to be elevated in more than 200 years.
Many politicians view his handling of the Brexit legislation through the Commons as "obstructive".