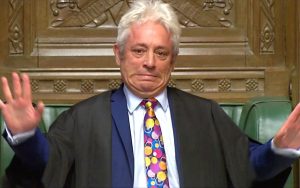 Former House of Commons Speaker John Bercow is expected this week to be denied a life peerage.
Bercow was nominated by Labour leader Jeremy Corbyn in his resignation list.
However, it's understood the House of Lords Appointments Commission will refuse the application.
Bercow has been accused of alleged bullying, something he has denied.
He would be the first Speaker in 230 years not to be sent to the Lords after retiring.
With his flamboyant style in the Commons, Bercow was seen by many Brexiters as a stumbling block to the Leave result being implemented.
The commission is also expected to deny a peerage to former Labour deputy leader Tom Watson.
Watson championed the cause of fantasist Carl Beech who claimed that a ring of establishment figures had sexually abused him as a child.
The claims of rape and murder turned out to be fake and Beech is now serving an 18-year jail term.