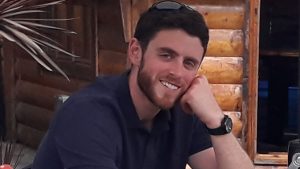 More than 356,000 people have signed a petition calling for the overturning of manslaughter verdicts in the killing of Pc Andrew Harper.
Three teenagers were convicted of the officer's manslaughter but cleared of murder.
The accused were stealing a quad bike when the police were called.
As Pc Harper, 28, tried to apprehend the teenagers his foot become entangled in a strap behind their vehicle
The newly wed policeman died from "catastrophic injuries" after being towed behind for more than a mile.
The driver, Henry Long, 19, and passengers Albert Bowers and Jessie Cole, both 18, were trying to escape capture at Sulhamstead, Berkshire.
Bowers and Cole were charged with the murder of the officer but were found guilty of the lesser charge of manslaughter.
Long admitted manslaughter.
The teenagers – all said to be members of the travellers' community – were caught laughing inside and out of court during the trial at the Old Bailey.
They hugged each other when the verdicts were returned.
It was later revealed the jury had been put under protection after threats.
Judge Mr Justice Edis ordered extra security measures amid fears of potential juror intimidation by supporters of the defendants.
Now, more than 356,000 people have signed a Change.org petition calling for the verdicts to be overturned.
One of the signatures is said to be from Pc Harper's mother, Debbie Adlam.
She wrote: "Andrew James Harper is my son.
"I am disgusted that he has been let down.
"Utterly and bitterly disgusted with the outcome.
"Andrew went to work to serve us all.
"And this is how he was repaid."
Following the verdicts Andrew's widow Lissie said: "This crime, whatever the outcome deliberated over in court, was brutal and senseless.
"The way in which Andrew was robbed of his life we all know to be barbaric and inexplicable."
The teenagers admitted plotting the theft and Long pleaded guilty to manslaughter, but each denied knowing that Pc Harper was there.
They claimed the incident was a "freak event" that none of them could have planned or foreseen.
Thames Valley Police Detective Superintendent Stuart Blaik said:
"Long, Bowers and Cole have shown no remorse for what happened that evening at any stage."
The trio are due to be sentenced on Friday.
https://www.change.org/p/government-overturn-a-miscarriage-of-justice?source_location=petitions_browse