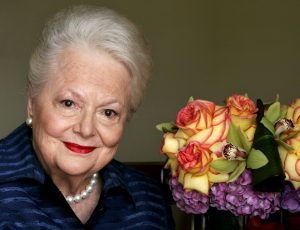 Hollywood's Golden Age actress Dame Olivia de Havilland has died.
The "Gone With The Wind" star was aged 104.
She died in her home in Paris.
A statement said: "Last night, the world lost an international treasure, and I lost a dear friend and beloved client.
"She died peacefully in Paris."
Tributes poured in for the Oscar winning de Havilland.
The Academy of Motion Picture Arts and Sciences, which hosts the Oscars, said:
"To Each His Own, The Heiress, Gone with the Wind and so many others."
"A two-time Best Actress Oscar winner, Olivia de Havilland was a mainstay of Hollywood's Golden Age and an immeasurable talent. Here's to a true legend of our industry."
Dame Olivia won two best actress Oscars for her roles in 1946's To Each His Own and 1949's The Heiress.
However, she is best remembered as Melanie Wilkes in the 1939 film "Gone With The Wind".
She was the last remaining member of the principal cast before her death.
Olivia de Haviland was born to British parents in Tokyo in 1916 but moved to California when she was young.
In 2017, she said she was "extremely proud" to be made a dame for services to drama.