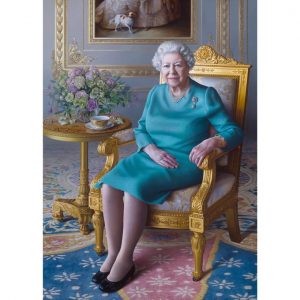 A new portrait of the Queen has been unveiled.
The picture was revealed during a videocall.
Watching on a computer screen, it's the first time the Queen had seen the picture.
However, the Queen was quick to spot the teacup in the painting had no tea in it.
The portrait had been commissioned by the Foreign and Commonwealth Office.
Artist Miriam Escofet told the Queen that she had included a hidden symbol in the painting – the insignia of the FCO – painted on a tea cup.
Ms Escofet said: "She seemed to react very positively to it.
"She was smiling, asking how long it took and if I had any more projects on the go after this.
"When I explained certain elements of the painting, the tea cup, she made some amusing comments.
"She said, 'but there's no tea in the cup'."
The painting took seven months to complete, with the finishing touches done during lockdown.
Ms Escofet had two sittings with the Queen: one in the White Drawing Room at Windsor Castle where she spent 30 minutes photographing Her Majesty wearing a blue dress, pearl necklace, earrings and drop brooch.
The second sitting took place at Buckingham Palace to focus on her facial expressions.
Ms Escofet said: "She's a very experienced sitter.
"She's fantastic. She's very much focused on giving you what you need.
"She's very present in the room and focused on the job in hand.
"She has a sense of humour there bubbling under the surface.
"She was very down to earth, if that's not a silly thing to say.
"In the first sitting I was asking about her experience with previous portraits and whether she had any particular favourites.
"I tried to tease it out of her, but she was very diplomatic."
She continued: "What I wasn't expecting was her humour.
"I'm not saying she's cracking jokes, but you can feel it.
"There's a real sharpness, a keenness, she's really there, she really takes you in."