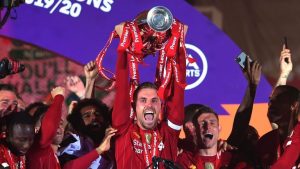 Liverpool lifted the Premier League trophy for the first time after a thrilling 5-3 win over Chelsea.
Team captain Jordan Henderson was handed the silverware by Liverpool legend Kenny Dalglish.
It's the first time Liverpool have won the Premier League since its start in 1992.
The Reds won the old First Division league in 1990. Dalglish was the manager.
Despite no fans being allowed into Anfield, there was raucous end to the evening with music and fireworks.
However, many supporters gathered outside the ground.
Liverpool won the title with seven games to spare.
Victory over Chelsea was the 59th home game without defeat.
Henderson told Sky Sports: "Walking up there was amazing.
"The lads deserved their moment.
"Thankfully, the families were up there watching, that was a big thing for us.
"It's been an amazing season, to crown it off like that was special."
With supporters absent due to the coronavirus restrictions, Liverpool had built a stage in their iconic stand for the presentation, while fans gathered and celebrated outside of Anfield.
Manager Jurgen Klopp said: "Special. Absolutely special.
"We don't have to compare as we never have done it before.
"We all know it could have been different.
"It could have been worse, for example, if we never won the game.
"The boys gave us the opportunity to have a really special night.
"I think a lot of people thought before the game one team fights for the Champions League, the other team is maybe already on the beach.
"But these boys are so special.
"I could not be more proud.
"Throwing a performance like this in on the pitch tonight… it was an open game but nice, nice goals.
"Incredible goals, super footballing moments. I loved the game.
"We could enjoy it and we will enjoy the rest of the night."
Credit: LFCTV