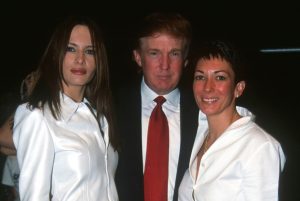 (l-r) Melania Trump, Donald Trump, Ghislaine Maxwell
Donald Trump has made an extraordinary comment on a high-profile sex-trafficking court case.
The President appeared to offer support to one of the accused in the Jeffrey Epstein sex scandal.
He told a press conference he "wished Ghislaine Maxwell well".
The British socialite is currently in prison after being arrested by the FBI.
Mr Trump said he'd met Ms Maxwell "numerous times" when she lived in the same part of Florida as his Mar-a-Lago club.
Ms Maxwell, 58, is accused of helping procure teenage girls for the convicted paedophile Epstein.
One girl claims she was told to sleep with Prince Andrew – a former lover of Ms Maxwell.
Mr Trump declined to comment on Prince Andrew, saying he "did not know the situation."
The president was asked if he thought Ms Maxwell was "going to turn in powerful men".
He said: "I don't know, I haven't really been following it too much.
"I just wish her well, frankly.
"I've met her numerous times over the years, especially since I lived in Palm Beach and I guess they [Epstein and Maxwell] lived in Palm Beach.
"But I wish her well, whatever it is."
He added: "I don't know the situation with Prince Andrew.
"Just don't know, not aware of it."
Ms Maxwell is the daughter of the late disgraced press baron Robert Maxwell.
She has pleaded not guilty to four counts of transporting minors for illegal sex acts and two of perjury.
She was arrested by the FBI in a hideaway home.
She is in jail awaiting trial in a year's time.
Epstein committed suicide in his prison cell last year.
Following Epstein's arrest Mr Trump said: "I was not a fan of his, that I can tell you."
Virginia Roberts Giuffre claims she was recruited by Ms Maxwell and trafficked from America to London.
Ms Giuffre says she was forced to sleep with the Prince – an allegation he strongly denies.