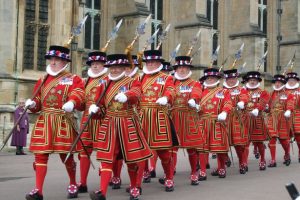 Yeoman Warders – "Beefeaters" – who guard the Tower of London, face redundancies for the first time in 535 years.
The coronavirus pandemic has all but ended tourism to the world-famous attraction.
The Tower houses the Crown Jewels.
It has 37 Yeoman Warders who live inside the grounds with their families.
John Barnes, the head of the Historic Royal Palace (HRP) said:
"We simply have no choice but to reduce our payroll costs.
"We are heartbroken that it has come to this."
Two Beefeaters have taken voluntary redundancies, but compulsory redundancies will be enforced.
Three million people visited the Tower last year – more than 8,200 a day.
Since it re-opened on July 10th it's attracted fewer than a 1,000 a day.
The Yeoman Warders were formed in 1485 by the first Tudor king, Henry VII.
In 1509 Henry VIII moved his official residence from the Tower of London.
However, it was still a royal palace and a dozen Yeoman were garrisoned there.
They've remained ever since.
Credit: Historic Royal Palaces