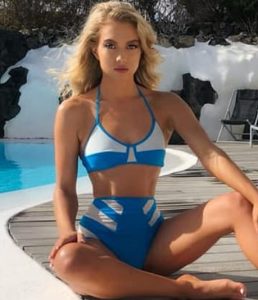 Miss Swimsuit UK has been stripped of her title after posting comments about Black Lives Matter.
Jasmine Archer-Jones, 23, allegedly made the remarks after the death of George Floyd in America.
She questioned his "innocence" and said, "all lives matter".
All trace of Ms Archer-Jones winning the beauty title last year has been removed from the pageant's website, the Sun reports.
And a source told the newspaper:
"Jasmine has tried to sweep it under the carpet and continue on as if nothing has happened but organisers acted quickly to airbrush her from their history.
"They have posted in support of the Black Lives Matter protest and could not afford to be associated with her."
Her post has since been deleted from Facebook.
However, screenshots of the item said:
"If you look deeply into statistics, more UNARMED WHITE people DIED than BLACK last year."
"There is video footage of him refusing to get out of his car, which warrants for the police officers to use whatever means necessary to restrain the person.
"He also SUPPOSEDLY had drugs in his system, but I doubt they will release the autopsy now… Oh and let's not forget that George Floyd also has a criminal record dating back to the 90s."
She finished the post by saying:
"I DO NOT discriminate against any person. But THIS IS NOT OK."