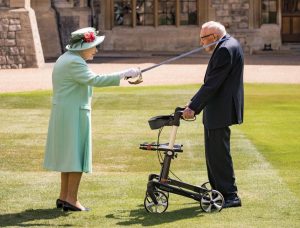 The Queen has knighted NHS fund raiser Captain Tom Moore in a private ceremony at Windsor Castle.
The 100-year-old WWII veteran was honoured after raising more than £32 million for walking a hundred lengths of his garden.
His steel and determination captured the nation as it took it first steps into the coronavirus lockdown.
Prime Minister Boris Johnson nominated Sir Tom for the award.
The dubbing in the castle's quadrangle was a special exception.
The Queen, 94, and Prince Philip, 99, have been staying at Windsor Castle since the pandemic started.
Sir Tom's daughter Hannah Ingram-Moore, son-in-law Colin Ingram, grandson Benjie and granddaughter Georgia were at the ceremony.
The Queen used a sword that belong to her father George VI.
She chatted to Sir Tom and his family, and personally thanked him, saying: "Thank you so much, an amazing amount of money you raised."
The monarch was also overheard telling the former Army captain that "One hundred is a great age."
The talk then turned to national events and the coronavirus, with the Queen, who has been sheltering with Prince Philip, asking: "Have you been shut up – been isolating?"
Before the ceremony Sir Tom tweeted that he was "raring to go".
He said it would be a "very special day" for him and thanked well-wishers.
Royal commentator Dickie Arbiter said the monarch's decision to give Sir Tom his knighthood in an individual ceremony as "very significant".
He said: "The Queen has always said she 'needs to be seen to be believed' so today she will be seen – the last time we actually saw her physically was in June in the alternative Trooping the Colour at Windsor Castle.
"To actually see the Queen in person – this is a step in the right direction, a step hopefully back to new normality, but it will be a very slow step," he added.
Buckingham Palace said the investiture followed strict social distancing rules.