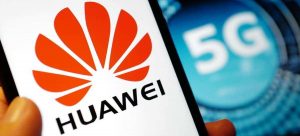 Chinese tech titan Huawei is to be banned from supplying new kit to Britain's 5G network from the end of the year.
The decision is a major U-turn by Prime Minister Boris Johnson.
The National Security Council (NSC) also ruled that existing Huawei equipment must be stripped from 5G networks by 2027.
Some rebellious Conservative MPs had demanded a quicker timetable.
A spokesman for Huawei said:
"This disappointing decision is bad news for anyone in the UK with a mobile phone.
"It threatens to move Britain into the digital slow lane, push up bills and deepen the digital divide.
"Instead of 'levelling up' the government is levelling down and we urge them to reconsider.
"We remain confident that the new US restrictions would not have affected the resilience or security of the products we supply to the UK.
"Regrettably, our future in the UK has become politicized, this is about US trade policy and not security.
"Over the past 20 years, Huawei has focused on building a better-connected UK.
"As a responsible business, we will continue to support our customers as we have always done.
"We will conduct a detailed review of what today's announcement means for our business here and will work with the UK government to explain how we can continue to contribute to a better-connected Britain."
Britain's NSC is made up of senior ministers and security chiefs.
The group decided recent restrictions by America on Huawei meant the company's equipment could no longer be trusted in the UK's 5G network.
The US stopped Huawei from using its components, forcing it to look for other "less trusted" parts.
That move alone won the day for an aggressive "no to Huawei" campaign led by President Trump.
He will see the reversal as a significant victory for him and America.
For months Washington has been putting relentless pressure on Mr Johnson to quit Huawei for security reasons.
America's latest sanctions would stop Huawei using US-made chips in its equipment.
The company would need to rely on home-made micro-chips.
And, UK intelligence chiefs felt they could no longer be confident that new kit was secure.
Culture secretary Oliver Dowden said the Huawei ban could delay the full rollout of 5G networks in Britain by two years.
It could also cost more than £2 billion.
Mr Johnson has also been under pressure from his own backbench MPs.
Enough supported a ban on Huawei to cost the PM a vote in the House despite an 80-seat majority.
Earlier Liu Xiaoming, China's ambassador to the UK, said Britain's decisions were being scrutinised.
They believe the UK cannot run its foreign policy independently of the US.
He said: "The China business community are all watching how you handle Huawei.
"If you get rid of Huawei it sends out a very bad message to other Chinese businesses.
"We want to be your friend.
"We want to be your partner.
"But if you want to make China a hostile country, you will have to bear the consequences."