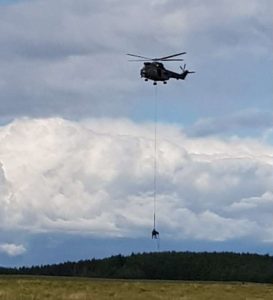 Credit RAF Benson
An RAF helicopter flew to the rescue when a cow was stranded on a muddy riverbank.
Numerous attempts by animal charities, the fire brigade and the coastguard failed to bring the cow to safety.
However, a team from nearby RAF Benson had the answer – a helicopter.
They scrambled to the Crammel Linn waterfall in Cumbria.
Adam Wardrope, station commander at RAF Benson, said:
"We are delighted to have been able to help with the rescue of the stranded cow today.
"Clearly, we don't specialise in lifting cows, however, supporting the local community is really valuable training for our crews.
"We have to be prepared for the unexpected and be ready to deliver whatever is needed at any time, day or night."