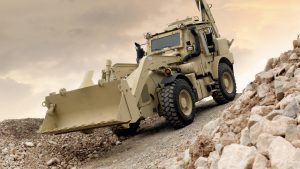 Credit JCB
Digger giant JCB has won a £215 million contract to supply the US military with high-speed excavators.
Over the next eight years the UK firm will build High Mobility Engineer Excavators (HMEEs) for the US Army and Marine Corps.
The HMEE – specifically designed for the American forces – can hit speeds of 55 mph.
The "digger" can keep pace with forces without having to be carried on supporting lorries and low-loaders.
The contract is for up to 400 HMEEs.
They will be made at JCB's JCB's North American headquarters in Savannah, Ga.
As well as a base unit JCB will also supply an armoured version.
Graeme Macdonald, JCB CEO said:
"When it was developed, the HMEE revolutionized the way military tasks were carried out and we are delighted that the U.S. military has shown great faith in the project by placing this new order."
And, Richard Fox-Marrs, JCB North America president and CEO, said:
"The U.S. military has shown tremendous confidence in this JCB product which speaks volumes for the team behind its design, engineering, manufacturing and after sales support."
The 17.5-tonnes, 6.7 litres engine machines are suited to a range of military and disaster relief missions.
It is four-wheel drive, four-wheel steer, can lift more than two tonnes and dig to a depth of 13 ft.
JCB is based in Rocester, Staffordshire.
It's a family run business that makes more than 300 types of machines that are sold in more than 150 countries.