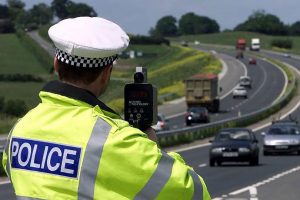 Breaking the speed limit tops the list of driving offences in England and Wales.
Nearly 16 million drivers have been caught in the last nine years, reveals a report.
In 2019 one in ten motorists committed a driving offence – an increase from one in 11 in 2011.
And 13 police forces reported an increase in ultra-high speeding – some well in excess of 100 mph – during lockdown.
The numbers of vehicles on the road since lockdown started at the end of March has dropped dramatically – almost down to levels last seen in the mid-1950s.
This new research, conducted by True Solicitors, shows the rising number of motorising offences since 2011.
First was speeding with 15,904,00.
Second was neglecting road regulations with 2,998,00.
Disqualified drivers, uninsured vehicles, false insurance certificates and fraud came third with 2,666,000
Dangerous, careless, and drunk driving saw 1,587,000 offences.
Defective vehicles logged up 626,000 crimes.
And, 40,000 drivers failed to stop after an accident.
True Solicitors has produced guidelines for safer driving:
Do not drive when tired and always make sure to rest and stay hydrated before travelling, particularly for long journeys.
Plan ahead. For instance, arrange alternative public transport and make sure to leave your car at home if you know you will be drinking alcohol.
Always keep a safe distance and leave a two second gap between your car and the one in front. An easy way to remember this is with the quote "only a fool breaks the two second rule." Make sure to extend this distance when the weather is bad, and it is raining.
Remember head checks to look for any vehicles that might be in your blind spot.
Rest before a long trip and also take refreshments and plan breaks to ensure your journey is as smooth and safe as possible.