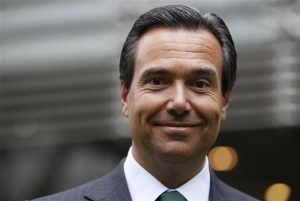 Antonio Horta-Osorio
Lloyds bank boss Antonio Horta-Osorio is to step down after ten years.
The Portuguese chief executive will leave by the middle of next year.
He said: "It is, of course, with mixed emotions that I announce my intention to step down as chief executive of Lloyds Banking Group by June next year.
"I am lucky to have had the support of a superb board and executive team on whom I will continue to rely as we complete our current strategic plan, transforming the group into the bank of the future.
"Everyone at Lloyds has unified around our purpose of 'Helping Britain Prosper', and our customers and communities are seeing our commitment to that now, more than ever."
Lloyds also announced a new chairman who will take over when Lord Blackwell retires.
Robin Budenberg will join the bank later this year before replacing Lord Blackwell in 2021.
Mr Budenberg said: "Lloyds will play a vital role as Britain recovers from the current crisis.
"It is a great honour and challenge to take on the role of chair at this time, and I hope to continue Norman and Antonio's work, initially alongside Antonio, in pursuing Lloyds' core purpose of Helping Britain Prosper and in building the culture of the bank in order to support that purpose."