Jeremy Kyle guest died from a morphine overdose, inquest told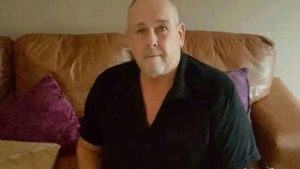 A Jeremy Kyle Show guest, who died a week after being on the show, had taken a morphine overdose.
Steve Dymond, 63, also had a heart problem, a pre-review inquest heard.
Mr Dymond was found at his home last year only days after taking a lie-detector test on the controversial ITV daytime programme.
The show was later axed.
Construction worker Mr Dymond told his landlady he'd gone on the show to prove he wasn't cheating on his girlfriend.
However, he was worried about the repercussions of the show and later rumours.
At an earlier inquest hearing, Detective Sergeant Marcus Mills said the death was a suspected suicide.
Empty morphine packets were found next to Mr Dymond's body at his home in Portsmouth, Hampshire.
Coroner Jason Pegg said the cause of Mr Dymond's death was a morphine overdose.
Also, a left ventricular hypertrophy, a condition when the left chamber of the heart is not pumping properly.
The hearing in Portsmouth – conducted by video-link – was later stopped due to technical problems.
People dialling-in were unable to hear the proceedings.