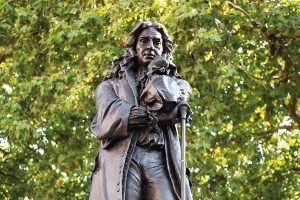 A man has been arrested in connection with a statue of slave trader Edward Colston being pulled from its plinth.
The 24-year-old was questioned by the police on suspicion of criminal damage.
He has since been released as inquiries continue.
Last week Avon and Somerset Police posted 15 pictures of people they wanted to talk to about the statue being pulled down with ropes.
The bronze memorial to the 17th Century was then thrown off the quayside into the River Avon at Bristol.
The statue has been recovered and will be placed in a museum alongside placards from the Black Lives Matter protest held last month.
Detective Superintendent Liz Hughes said in an appeal on June 22:
"The incident attracted worldwide attention and there's no denying it has polarised public opinion – but in the eyes of the law a crime has been committed and we're duty-bound to investigate this without fear or favour.
"I'd like to reassure people we're carrying out a thorough, fair and proportionate investigation and have sought early investigative advice from the Crown Prosecution Service."