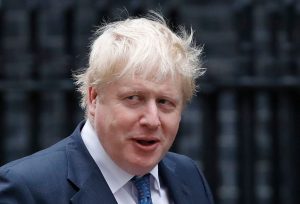 The Prime Minister is looking to "tear up" planning rules to kick-start the British economy.
He has pledged to "build, build, build" by investing billions of pounds into public projects.
Schools, roads, railways, and hospitals are part of an "infrastructure revolution" to create jobs.
Boris Johnson said the UK "cannot continue to be prisoners" of the Covid-19 pandemic.
He said the economy was "between the lightning flash and the thunderclap".
He added that the time was right to "build back better and to build back bolder".
However, he would not rule out tax rises to pay for his recovery plan.
Mr Johnson said: "This is a government that is wholly committed not just to defeating coronavirus but to using this crisis finally to tackle this country's great unresolved challenges of the last three decades.
"To build the homes, to fix the NHS, to tackle the skills crisis, to mend the indefensible gap in opportunity and productivity and connectivity between the regions of the UK. To unite and level up.
"To that end we will build, build, build. Build back better, build back greener, build back faster and to do that at the pace that this moment requires.
"I fully accept that there are going to be economic aftershocks, but there are also big opportunities now to take this country forward, to make investments, to make big changes.
Labour leader Sir Keir Starmer said: "The Prime Minister promised a new deal, but there is not much that's new, and, it's not much of a deal.
"We are facing an economic crisis, the biggest we have seen in a generation, and the recovery needs to match that.
"What's been announced amounts to less than £100 per person, and it's the re-announcement of many manifesto pledges and commitments."