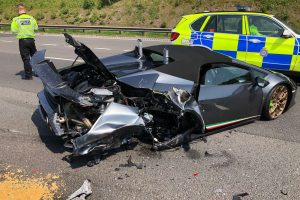 A £200,000 brand new Lamborghini was wrecked on a motorway only 20 minutes after being bought.
The car had stopped in the outside lane of the M1 when it was hit from behind by a van.
The crash happened between junctions 40 and 39 in West Yorkshire.
A policewoman confirmed the van driver received head injuries.
Another officer, Pc Richard Whiteley, posted on a social media that the Italian sports car had stopped "due to a mechanical" problem.
The post read: "M1 Ossett today – It's only a car! But on this occasion a 20-minute old brand new Lamborghini that stopped due mechanical failure in lane 3 them hit from behind by an innocent motorist #couldhavecried."
The post, now deleted, included a picture of the wrecked car.