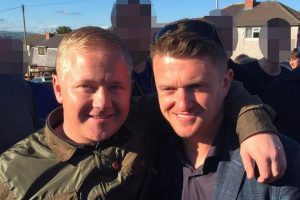 Hepple (left) with Tommy Robinson
A far-right group was behind the "White Lives Matter Burnley!" banner flown over the Etihad Stadium in Manchester.
It's reported that Jake Hepple – a Burnley FC supporter – has admitted on social media being behind the stunt.
He is now being investigated by the police.
Hepple wrote in a private message:
"I'd like to take this time to apologise… to absolutely f***ing nobody".
He added in a Facebook post:
"It's now apparently racist to say White Lives Matter, the day after three white people got murdered in a park in Reading, but all we've seen on the TV is Black Lives Matter after George Floyd got murdered.
"What a mad world we live in."
It's understood his Facebook account has now been deactivated.
In the past Hepple has posed for photographs with right wing agitator Tommy Robinson.
The plane used in the stunt moments after Burnley and Manchester City players took the knee was a single-engine Cessna 182.
It's believed to be owned by Air Ads Ltd and has been used before to fly aerial ads at football games.
An unidentified airline company person told a BBC reporter that "we don't take sides so long as an ad is legal".
Lancashire Police Football Unit, which is responsible for policing Burnley games, said it "will be fully investigating" the stunt.
Kick It Out, an anti-racism charity, said the banner was a grave misunderstanding of the BLM initiative.
The organisation's chair Sanjay Bhandari said:
"The point of Black Lives Matter is not to diminish the importance of other people's lives.
"It is to highlight that black people are being denied certain human rights simply by virtue of the colour of their skin.
"It is about equality.
"We shall continue to support the Black Lives Matter movement and the fight for greater equality for all in football."
Meanwhile, Burnley's captain Ben Mee said after the game:
"I'm ashamed and embarrassed that a small number of our fans have decided to put that around the stadium.
"It's not what we are about at all.
"It's missed to whole point of what we're trying to achieve, and these people need to come into the 21st century and educate themselves as a lot of us do.
"It doesn't represent what we're about, what the club is about, what the players are about and what the majority of the fans are about.
"It's a small minority of people and I'm really upset that it happened."
Burnley FC said in a statement:
"Burnley strongly condemns the actions of those responsible for the aircraft and offensive banner.
"We wish to make it clear that those responsible are not welcome at Turf Moor.
"We apologise unreservedly to the Premier League, to Manchester City and to all those helping to promote Black Lives Matter.
"The club has a proud record of working with all genders, religions and faiths through its award-winning community scheme, and stands against racism of any kind.
"We are fully behind the Premier League's Black Lives Matter initiative and, in line with all other Premier League games undertaken since Project Restart, our players and football staff willingly took the knee at kick-off at Manchester City."
Manchester City went on to win the game 5-0.