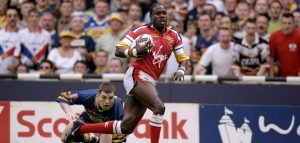 Singing the rugby anthem "Swing Low, Sweet Chariot" is to be reviewed because the song has its roots in slavery.
The song is ritually sung by England's rugby union supporters around the world.
However, The Rugby Football Union (RFU) has said it wants to review its place in the sport.
The RFU also wants supporters to be "educated" about the song's heritage.
Its roots lie in American slavery in the 19th century.
It was written to Wallace Willis, who was a freed Oklahoma slave.
"Swing Low, Sweet Chariot" was a spiritual song at the turn of the 20th Century.
And it was popular during the civil rights movement in America in the 60s.
It was "adopted" by England rugby fans about speedy winger Martin Offiah.
Offiah was nicknamed "Chariots" after a pun on the 1981 Oscar winning film Chariots of Fire.
An RFU spokesperson said: "The RFU has stated we need to do more to achieve diversity and we are determined to accelerate change and grow awareness.
"The Swing Low, Sweet Chariot song has long been part of the culture of rugby and is sung by many who have no awareness of its origins or sensitivities.
"We are reviewing its historical context and our role in educating fans to make informed decisions."