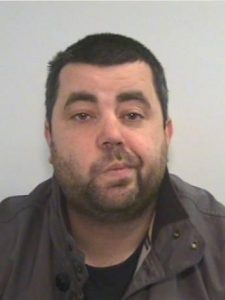 Picture NCA. David Walley
An alleged drugs trafficker wanted since 2013 was arrested as he celebrated his 45th birthday.
David John Walley was picked up by Greater Manchester Police (GMP) in a house at Alderley Edge, near Manchester.
Walley was wanted by the National Crime Agency (NCA) for alleged trafficking of cocaine and possession of false identity documents.
Since lockdown the NCA – working with the police – have arrested more than 100 people on the run.
The alleged crimes are rape, drugs trafficking, sexual exploitation, and robbery.
Walley, of Stockport, Greater Manchester, had been wanted since 2013.
It is claimed he arranged a cocaine importation to Manchester between November 2012 and 2013
Jon Hughes, NCA operations manager, said:
"Walley has been on the run for seven years but law enforcement doesn't forget about fugitives.
"The NCA will relentlessly pursue fugitives and use our international reach and domestic partnerships to make sure wanted criminals live a life of high anxiety.
"GMP did brilliant work in this case to arrest a suspect wanted as part of an NCA investigation."