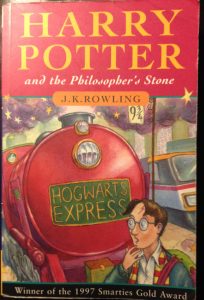 A first edition Harry Potter found in a school skip has sold for £33,000.
The hardback copy of the Philosopher's Stone was sold with four other books from the JK Rowling series.
The anonymous seller, a 65-year-old teacher, said:
"To say I'm pleased is an understatement.
"Due to its condition, we thought £20,000 would be a good result.
"We watched the auction and the price just kept going up and up."
The books were in a school skip in Buckinghamshire.
The seller said: "I love books and reading, and it just seemed awful to throw them away, so I picked up about five Harry Potter books.
"I thought they might be useful for my children or grandchildren in the future.
"It was better than seeing them go to waste."
Two Philosopher's Stone paperback first editions went for £3,400 and £3,000 respectively.
And first edition copies of the Chamber of Secrets and the Prisoner of Azkaban made £360.
The Philosopher's Stone hardback was bought by a private UK buyer.
It's one of only 500 1997 first edition hardbacks printed.
It had an estimate of between £8,000 and £12,000.