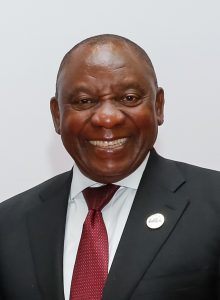 Cyril Ramaphosa, President of South Africa
Britain is to work with the African Union to slow the spread of coronavirus in Africa.
The Government is giving £20 million to help tackle the pandemic.
It has also agreed to train health experts.
The donation has gone to the "African Union Covid19 Response Fund".
The UK is the largest national donor since the fund was announced last month by Cyril Ramaphosa, Chairperson of the African Union (AU) and President of the Republic of South Africa.
Britain's International Development Secretary Anne-Marie Trevelyan said:
"As the UK faces its biggest peacetime challenge in tackling coronavirus, it's never been more important to work with our partners in Africa to fight disease.
"No one is safe until we are all safe and this new funding and support for African leadership will help protect us all – in the UK, Africa and around the world – from further spread of the virus."