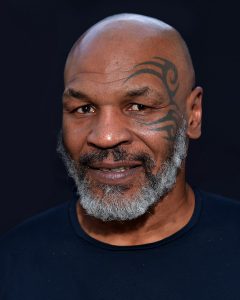 Mike Tyson is teasing fans – and promoters – about a return to the ring.
The former world heavyweight champion has posted another training video.
After a dynamite display of sheer power, aggression and speed the 53-year-old turns to the camera and declares:
"I'm back".
"Iron Mike" was a ferocious fighter who intimidated opponents with his sheer power.
Tyson, who held the WBA, WBC and IBF titles, wants to box again for charity and exhibition matches.
Former international rugby players, who turned to boxing, have put their names forward as challengers.
But it's said Tyson is keen to go toe-to-toe with old foe Evander Holyfield.
Holyfield, 57, was the undisputed world champion at both cruiserweight and heavyweight.
The boxers fought twice.
Holyfield – the underdog – won the first with a technical knockout in the 11th round.
And Tyson was sensationally disqualified in the re-match after biting his opponent's ear.