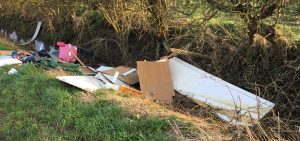 Re-opening rubbish and recycling centres is one of the first easing of lockdown.
After five weeks of closure, the Government is concerned rubbish is piling up in people's homes.
And the number of cases of fly tipping has dramatically increased.
Housing Secretary Robert Jenrick has asked councils to "plan the organised opening" of household waste recycling centres, provided safe social distancing can be maintained.
He told MPs: "Our bin men and women have done a fantastic job maintain the vast majority of collections.
"The Government published advice to councils on how to ensure the safety of refuse collections on 7th of April.
"Today I can announce that I am asking councils to plan the organised opening of household waste collection sites."
It's hoped some sites will re-open as early as next week.
More than 90 per cent of Household Waste and Recycling Centres have been closed.
Many people have taken to clearing out their homes and garages during lockdown – generating a huge excess of rubbish.
Councils are expected to bring in strict distancing measures, and only one person per car.
Some might insist people book a slot online to visit a recycling centre.