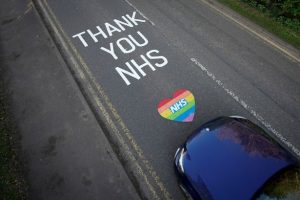 Britain held a one minute's silence for the key workers who have died during the coronavirus pandemic.
At 11.00 am people throughout the UK stopped to reflect on the lives lost on the front line.
The roles of workers who've died included doctors, nurses, carers, cleaners, porters and bus drivers.
The Underground and bus services in London all stopped as a mark of respect.
Afterwards, Prime Minister Boris Johnson tweeted:
"This morning I took part in a minute's silence to remember those workers who have tragically died in the coronavirus pandemic.
"The nation will not forget you."
The Royal College of Nursing, the Royal College of Midwives and the union Unison had campaigned for the moving silent tribute.
Dame Donna Kinnair, chief executive and general secretary of the Royal College of Nursing, said:
"I am heartened to hear how many people took part in the minute's silence to honour the memory of staff who have tragically died during the pandemic.
"We thought it was important to pay tribute publicly to those who have lost their lives to the virus, and I am proud that so many took the time to do so this morning."
Dame Donna also urged the Government to provide more protection of workers.
She said: "An even greater task now remains – to stop more joining the tragic number of those who have died.
"All key workers, healthcare staff among them, must be afforded the greatest protection."
The Press Association (PA) reports more than 90 frontline NHS workers have died since March 25th.
It's not known how many care home carers have died.