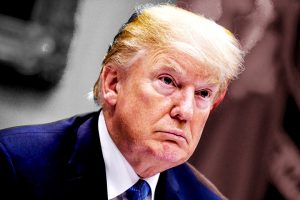 People have been warned not to inject themselves with disinfectant as suggested by US President Donald Trump.
At a White House press conference, he said products like British made Dettol can kill the coronavirus.
However, his "medical" advice has been roundly condemned – and ridiculed – around the world.
It prompted Dettol to issue an urgent statement saying under no circumstances must its product be "ingested in any way".
Trump said "emerging" research suggests disinfectants and sunlight could be used as a treatment for Covid-19.
And, he "wondered if they could be injected into patents" adding the virus "does a tremendous number on the lungs, so it would be interesting to check that".
Worldwide doctors and experts quickly explained the dangers of such an action.
Dr Eugene Gu, whose laboratory is involved in coronavirus testing, said:
"Trump is absolutely wrong and irresponsible. Clorox, Tide Pods and Lysol will kill coronavirus.
"No question about it.
"But if you are infected, then the coronavirus is inside your cells.
"If you use any of those disinfectants to kill the coronavirus in your own cells then you'll die right along with the coronavirus."
The manufacturers of Dettol – Reckitt Benckiser – issued a statement urging people to totally disregard the suggestion.
A spokesman said: "Due to recent speculation, we have been asked about the internal administration" of disinfectants.
"As a global leader in health and hygiene products, we must be clear that under no circumstance should our disinfectant products be administered into the human body (through injection, ingestion or any other route)."
The UK's Environmental Protection Agency said:  "Never apply the product to yourself or others. Do not ingest disinfectant products."
Credit YouTube – The Telegraph