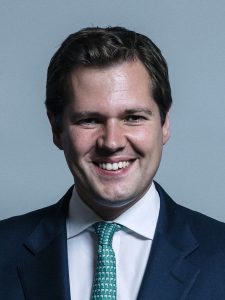 Pressure is mounting for Cabinet Minister Robert Jenrick to resign after breaking lockdown rules.
Mr Jenrick has admitted he drove 150 miles to join his family at his country mansion.
But he says the £1.1 million Grade 1 listed building is his main home.
However, The Telegraph reports the MP's primary residence is a £2.5 million townhouse in Westminster, less than a mile from the House of Commons.
He lives there with his lawyer wife, and his three young daughters attend school in London.
The Community Secretary and Newark MP also rents a property in his Nottinghamshire constituency.
Mr Jenrick, 38, has been a Government spokesman on the coronavirus lockdown, insisting that people must obey the order to stay indoors.
Steve Reed, Labour's communities spokesman, said:
"MPs need to set an example to everyone about the importance of not moving around the country.
"If Robert Jenrick can't provide a very good explanation as to why these trips were necessary, then he needs to consider his position."
And, Ian Blackford, the SNP's Westminster leader, said:
"If anyone has broken the guidance which everyone must be adhering to, then a price has to be paid.
"It is not acceptable for anybody – and it is certainly not acceptable for a minister to be disregarding the guidance and failing to lead by example."
Earlier this week Scotland's chief medical officer Catherine Calderwood quit after admitting visiting her seaside holiday home twice during the lockdown.
Mr Jenrick said earlier: "My house in Herefordshire is the place I, my wife and my young children consider to be our family home and my family were there before any restrictions on travel were announced.
"I have been working in London on ministerial duties, putting in place the system to shield the group most vulnerable to coronavirus and organising the response at a local level.
"Once I was able to work from home it was right that I went home to do so and be with my wife and help care for my three young children.
"By staying at home, we protect the NHS and help save lives. I will be staying at my family home until Government advice changes or if I am needed in person in Westminster before the parliamentary session resumes after the Easter recess."
A Government spokesman said: "Like everybody else, ministers have been told to work from home wherever possible and not make unnecessary journeys.
"As part of the coronavirus response there will be occasions when ministers have no option but to work from Whitehall.
"In the event this is required, and the rest of their household is living elsewhere, it's not an unnecessary journey for them to travel to re-join their family."