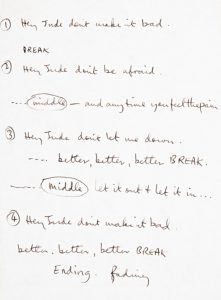 Paul McCartney's hand-written lyrics to "Hey Jude" have been sold for nearly £750,000.
The original estimate for the lines was £200,000.
Music specialist Jason Watkins described McCartney's hastily scribbled notes "as very rare and valuable".
The Beatles used the lines during the song's recording in July 1968 over two days at Trident Studios in London.
A 36-piece orchestra was used.
By the end of the year Hey Jude had sold five million copies, making it the Beatles most successful song.
Hey Jude was a hit around the world eventually selling eight million copies.
At more than seven minutes in length it is the longest song ever to top the British charts.
Many music critics regard it as one of the greatest songs ever written.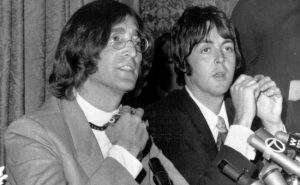 Lennon and McCartney
The song was originally called "Hey Jules" and written to help console John Lennon's son Julian.
Lennon had left Julian's mother Cynthia for Yoko Ono.
After the recording McCartney gave the lyrics to a studio engineer.
The same sheet of paper is also seen on a music stand in front of John Lennon when the song was re-done at the Abbey Road studios.
It was shot during a documentary produced by the National Music Council of Great Britain.
The auction in at the Hard Rock café in New York was changed to online because of the coronavirus lockdown.