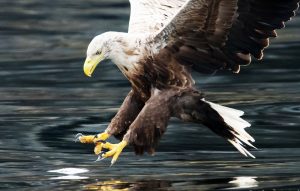 Credit Mike Crutch
White-tailed eagles, not seen in England for more than 240 years, have been sighted on the North York Moors.
The pair have made a 300 miles' journey to roost.
They are part of a convocation of four eagles being tracked by a group looking to reintroduce the bird to England.
Scotland still has a few breeding pairs.
The white-tailed eagle – also known as the fish eagle – is Britain's largest bird of prey.
It has a wingspan of more than seven feet.
They have white tails, a yellow beak and golden eyes with yellow legs and talons.
They hunt fish but also take birds, rabbits and hares.
Forestry England and the Roy Dennis Wildlife Foundation are leading the project to reintroduce the bird.
The Roy Dennis Foundation said:
"We may be living in strange times, but the natural world continues as normal.
The data from the satellite transmitters provides a fascinating insight into the movements of the young eagles during a period key for them learning the landscape.
"Young white-tailed eagles are known to explore widely in their first two years, before usually returning to their natal area to breed.
"If you are lucky enough to see a one over your garden, please send us the details.
"Given the way these birds readily travel over towns, villages and even cities, there is a chance of seeing one wherever you live so keep looking up, but please stay home and stay safe."
To report sightings, go to:
www.roydennis.org/2020/04/06/eagle-wanderings/