British motorhome tourists trapped in Morocco lockdown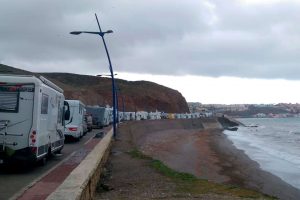 Hundreds of British tourists travelling in Morocco in motorhomes are stranded in a parking lot.
They are camped outside Tangier in an area the authorities have turned into a quarantine centre.
The tourists were trying to return to the UK through Spain – some 12 miles across the sea from the North African country.
However, they were told they could not wait on the Moroccan side of the border with Ceuta – a Spanish city enclave – and moved to the parking lot.
Moroccan authorities are equipping the site with electricity and essential accommodation.
They are also building temporary food shops.
It's thought the tourists could be stuck throughout the entire lockdown – with no known date of it ending.
British traveller Lynda Dransfield said: "We were told we'll have to stay here indefinitely.
"It's just a daunting prospect not knowing when we'll be able to leave."
Ms Dransfield said the park has running water, communal showers and toilets but she fears contamination from using them.
Fleeing Brits drove to Ceuta to return home after the British Embassy in Rabat said the border would be open.
Ms Dransfield told AP she arrived to find hundreds of vans queuing in line."
She added: "We were waiting with more than 650 other motor homes for three days without access to bathrooms and without news of what will happen to us."
"It became clear that the borders will not open."