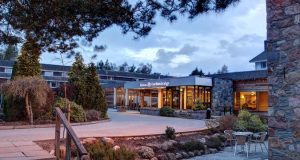 The Coylumbridge, Aviemore
A hotel that sacked and evicted its workers without notice has blamed an "administrative error".
The Coylumbridge Hotel in Aviemore sacked up to 30 staff by letter.
Some were told to quit their accommodation at once.
The hotel – owned by Britannia Hotels – was blasted by politicians and the public for its decision.
First Minister Nicola Sturgeon said she "unreservedly condemns" the decision.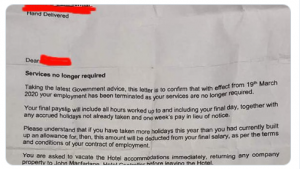 The sacking letter
A Britannia spokeswoman said:
"Unfortunately, the communication sent to these employees was an administrative error.
"All affected employees are being immediately contacted.
"We apologise for any upset caused."
The spokeswoman did not know if the sackings still stood, or if more Britannia workers would be laid-off.
Ms Sturgeon called on businesses to support their staff during the outbreak.
She said: "I would unreservedly condemn the approach that was taken in the Aviemore case, that is not how we want employers to operate."