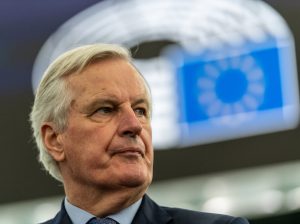 Michel Barnier
The EU's chief Brexit negotiator Michel Barnier has coronavirus.
Mr Barnier tweeted that he'd caught the disease, adding he was doing well and in good spirits.
The 69-year-old eurocrat said:
"I am following all the necessary instructions, as is my team.
"For all those affected already, and for all those currently in isolation, we will get through this together."
Before the news broke, talks between the UK and the EU had already been postponed because of the pandemic Covid-19.
Although Britain has left the EU it is still party to its tariff-free single market and customs union until the end of this year.
Despite the set-back, Prime Minister Boris Johnson declared he will not be asking for an extension to the talks.
Mr Johnson said that 11 months is more than enough time to secure a wide-ranging deal with the EU for goods and services.
The talks began earlier this month in Brussels, and are due to alternate between the EU's headquarters and London.