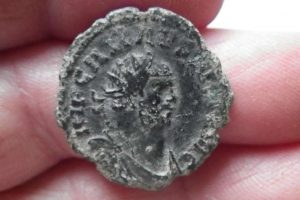 A rare Roman coin minted in London is among a record hoard of treasures found throughout the country.
The bronze coin was struck more than 1,700 years ago during the reign of the British rebel emperor Carausius.
It was just one of 1,311 treasure finds across England, Wales and Northern Ireland – a record high.
The coin has been donated to the British Museum.
The Museum's annual report shows finds include a 1,000-year-old brooch and a solid gold Bronze Age arm ring.
More than 80,000 objects were handed in for experts to examine.
Hartwig Fischer, director of the British Museum, said:
"These discoveries by the public are vital for advancing our understanding of Britain's diverse history.
"It is incredibly encouraging that so many finds have been voluntarily recorded."
Caroline Dinenage, the Minister of State for Digital and Culture, said:
"I am very pleased that a record number of treasure finds have been unearthed and it is brilliant that they will now go on display in local museums across the country."