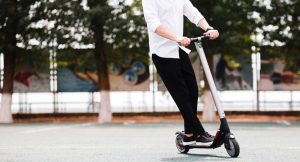 Electric scooters will be allowed on public roads for the first time, says the Department for Transport.
New rules are being worked out to enable the technology to work safely.
Many e-scooters are already in use – but illegally.
Four regions – Portsmouth and Southampton; the West of England Combined Authority; Derby and Nottingham; and the West Midlands – have been chosen as pilot areas.
Grant Shapps, Transport Secretary, said:
"Our ground-breaking future of transport programme marks the biggest review of transport laws in a generation and will pave the way for exciting new transport technology to be tested, cementing the UK's position as a world-leading innovator.
"This review will ensure we understand the potential impacts of a wide range of new transport types such as e-scooters, helping to properly inform any decisions on legalisation."
New legislation is needed before the pilot schemes can begin.
It will be several months until e-scooters are allowed on UK roads.