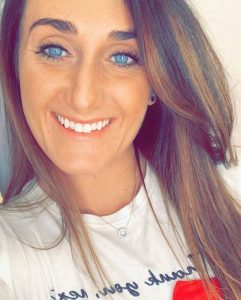 Brodie Gillon
The SAS are hunting the killers of British reservist Brodie Gillon.
The 26-year-old medic died in a Katyusha rocket attack fired by Iranian backed militia.
Lance Corporal Brodie died alongside two American soldiers at the base in northern Baghdad.
She is the first British woman killed in Operation Shader – a UK mission to train Iraqi troops.
Her colleagues described her as "larger than life".
Commanding officer Lt Col William Leek said:
"She was hugely popular in the Scottish and North Irish Yeomanry and we are proud and humbled to have served with her.
"She was a larger-than-life soldier who was determined to deploy on operations, help others, develop herself and gain practical experience."
L Cpl Gillon juggled military training with a civilian career as a self-employed sports physio.
The SAS and American special forces are now tracking down the terrorists which fired the 30 rockets from the back of a lorry.
Eighteen landed inside Camp Taji.
Twelve personnel were injured, included five seriously.
American jets retaliated within hours, striking the Hashed al-Shaabi net­­work of Iranian-linked Shia fighters in Iraq.
At least 18 members were killed.
Defence Secretary Ben Wal­­­­­lace vowed:
"Those who com­­mitted these acts will face justice."
US Defence Secretary Mark Esper said: "We will not tolerate attacks against our people, our interests, or our allies. All options are on the table".