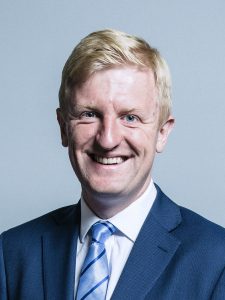 Oliver Dowden MP Digital Minister
 The government has defeated rebellious Tory MPs looking to keep tech titan Huawei away from the UK's 5G network.
The group wanted guarantees the Chinese infrastructure provider would be restricted in its involvement.
Also, it had a time limit on its connection – December 2022.
Parliament rejected the amendment, with the government winning the vote by 306 to 282.
Digital minister Oliver Dowden said:
"We're not in a position today to set out a specific date or timetable for reaching no high-risk vendors, that would require a new decision to be taken by the National Security Council."
However, the government would work with other "five eyes" intelligence partners.
Mr Dowden said the Government is committed to reducing the UK's reliance on Huawei within the current Parliament.
He told MPs: "There is a huge sense of urgency in this.
"This is why we are committed to working with our Five Eyes partners to make sure in this Parliament – we are setting for the first time here – we are setting out a timetable to say within this Parliament we will get the capacity so that then we can ensure that we will start to move away from our reliance on high-risk vendors.
"It's already capped at 35%, we want to get to a position where we don't need to rely on them at all.
"This is the important first step and this is about reassuring the House that we are on the path to diversification."