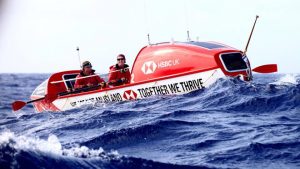 Sixty-four-year-old Sara Brewer is the oldest woman to row across any ocean after finishing a 3,000-mile Atlantic crossing.
Ms Brewer set off from La Gomera on December 12th with her rowing partner Ann Prestidge – a mere 35-year-old.
The couple took it in turns by taking one and a half hour stints pulling the oars.
They reached the coast of Antigua on the eve of International Women's Day (March 7th).
Ms Brewer took up rowing just six years ago.
She said: "We never anticipated it would take us this long.
"We were hoping to finish in mid-February, so the extended row has been tough both mentally and physically.
"For the past three weeks, we've been surviving on two meals a day and next to no sleep.
"We're delighted to finally set foot on land."
"I appreciate how lucky I am in my normal life and I will never again look upon it as being dull and mundane."