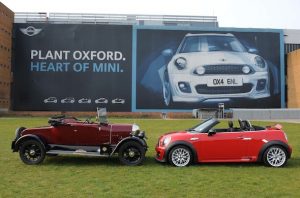 The government's Brexit plans are a "real and severe" threat to the UK car industry.
Campaigners in Oxford fear the city could lose its BMW car production plant as "substantial" extra costs could jeopardise investment.
In an open letter, senior city leaders said:
"BMW's commitment to electric Mini production at Cowley is a welcome confirmation of its wish to maintain a major production presence in the UK.
"But the warning bells are ringing loudly in the background.
"The Government's approach to the negotiations with the EU for our future trade relationship indicates that custom checks at the ports are likely and that the UK will not align its product security standards with Europe.
"Both these imply substantial additional costs for the Mini plant that will prejudice future investment in the UK."
Car industry expert, economist and Principal of Hertford College Will Hutton, City Council veterans Bob Price and John Tanner, local GP Dr Peter Burke and pro-European campaigners John Bond, Colin Gordon and Jo Steele added:
"BMW, along with the other large UK-based car producers and the Society of Motor Manufacturers & Traders (SMMT), have issued a clear warning that a hard or no-deal Brexit will pose a medium-term existential threat.
"The additional production costs and possible WTO tariffs will wipe out, or severely reduce, the possibility of continued profitable production.
"But government is now explicitly telling business and industry that frictionless trade is no longer an option on the table and business must plan on the assumption that it will cease.
"It is very hard to believe that BMW would now be going ahead with electric production at Cowley if it had thought that no deal was the probable final outcome.
"But the government is now doing its utmost to persuade everyone that it positively wants to steer the UK towards the no-deal cliff edge."
"BMW Cowley is not at immediate risk.
"But BMW have consistently made it clear that a hard or no-deal Brexit would be likely to lead to a scaling down of its UK based activity, with major impacts on local jobs and economies, in Oxford, Swindon and Birmingham.
"We owe it our community in Oxford to look hard at the facts and do what we can to avert an imminent economic disaster with massive social and economic consequences.
"It is time for us all to speak out, loud and clear, before it is too late."