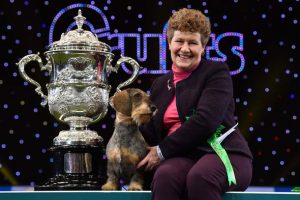 Maisie – a wire-haired Dachshund – won Crufts Best in Show, then promptly pooed during her victory lap.
The dog had just been called "gorgeous" by trophy presenter Peter Purves before leaving her calling card.
Owner Kim McCalmont whipped out a blue plastic bag and cleared up with two-year-old Maisie trotted off.
Ms McCalmont said: "I have to say wow, it's not very believable at this moment.
"It's something you dream of and you don't ever think will happen.
"It's the goal that everyone strives for because Crufts is the show – it really is, isn't it?
"[Maisie] just loves her showing, she just loves it. It's such a joy to take her out."
Presenter Clare Balding later tweeted:
"I admire Maisie so much to have been able to move well enough to win Best in Show at Crufts with such a big load inside her little tummy. What a star!"
More than 26,000 dogs took part in this year's Crufts.
Maisie was the 83rd pet to win Best in Show.