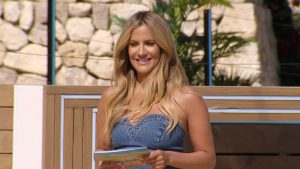 The death of vulnerable television star Caroline Flack was "unbelievably tragic", says ITV's chief.
Dame Carolyn McCall said ITV staff had been "absolutely devastated" by the Love Island host's suicide.
Dame Carolyn was speaking at a London conference.
"I think the thing about Caroline Flack is that ITV are absolutely devastated by what happened to her.
"So many people at ITV knew Caroline, including me, and it was unbelievably tragic.
"I think that we can never know what is behind suicide.
"It is not in any way simple. It is a very, very complex thing.
"We take advice from (mental health charities) Samaritans and Mind and we will continue to do that."
Ms Flack was found dead in her East London home while awaiting trial on an assault charge.
Dame Carolyn reaffirmed her channel's commitment to duty of care.