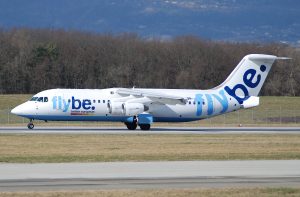 Ailing airline Flybe has collapsed after a government rescue bid failed.
It's the first British company to close because of coronavirus.
Europe's biggest regional airline went into administration after the government turned down a £100 million state loan.
It's said shareholders were "bogged down" in an industry-wide crisis caused by the Covid- 19 virus.
Also, they were unwilling to help each other.
The UK Civil Aviation Authority tweeted shortly after 3am:
"Flybe has entered administration.
"All Flybe flights are cancelled.
"Please do not go to the airport as your Flybe flight will not be operating.
"For flights operated by franchise partners, passengers should make contact with their airline.
"Flybe customers are urged to make their own alternative travel arrangements via other airlines, rail or coach operators."
In a statement, chief executive Mark Anderson said the company had made "every possible attempt" to avoid collapse but had been "unable to overcome significant funding challenges".
He said: "The UK has lost one of its greatest regional assets.
"Flybe has been a key part of the UK aviation industry for four decades, connecting regional communities, people and businesses across the entire nation.
"I thank all our partners and the communities we have been privileged to serve. Above all I would like to thank the Flybe team for their incredible commitment and dedication."