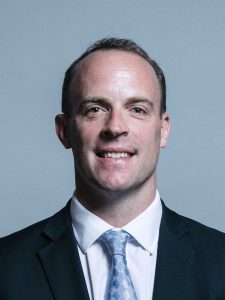 Foreign Secretary Dominic Raab is visiting the Gulf for talks with Saudi Arabia and Oman.
They are expected to discuss trade, human rights and climate change.
Mr Raab will also meet with Yemeni leaders in a bid to end five years of civil war.
Britain will "seek the opportunity to push for a political solution to the crisis in Yemen, following the recent surge in Houthi violence," a foreign office statement said.
Post Brexit, it's essential for the UK to continue to play a lead role in global affairs.
Mr Raab said: "The Gulf is important to UK security, but it's also a region of enormous opportunity.
"Both Oman and Saudi Arabia want to grow in sectors such as health, education and culture where the UK leads the world.
"I look forward to discussing trade, regional security, climate change and human rights in this pivotal region."
Mr Raab will travel to Oman to see newly appointed Sultan Haitham bin Tarik and his foreign minister Yusuf bin Alawi bin Abdullah.
He will then meet the Saudi leadership to talk trade, Saudi Arabia's presidency of the G20 and Britain's hosting of the COP26 climate summit.