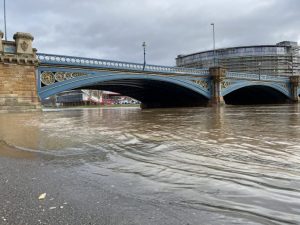 Trent Bridge, Nottingham
Three storms in a row made February the wettest month on record in Britain.
Storms Ciara, Dennis and Jorge delivered an average of 202.1mm of rain.
The previous record set thirty years ago was 193.4mm, said the Met Office.
Many rivers in the Midlands, Yorkshire and Lancashire burst their banks.
The Met Office issued dozens of "danger to life" flood alerts.
There are still 90 flood warnings in place across the UK alongside 215 flood alerts.
More than 4,300 homes in England and Wales have been flooded.
Storm Jorge is still blowing through the British Isles.