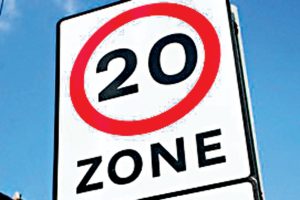 Central London roads will have 20 mph limits from next week (March 2nd).
All roads in the congestion charge zone that are currently 30 mph will drop to 20 mph.
London Mayor Sadiq Khan made the announcement on Twitter.
He posted: "Happy to report that the speed limit across TfL roads in central London will reduce from 30mph to 20mph from Monday 2 March.
"This new measure will save countless lives and eradicate serious injuries on our roads, whilst making it safer to walk and cycle around the capital."
Lilli Matson, Transport for London chief health, safety and environment officer added:
"Millions of walking and cycling journeys are made across our city every single day and a person is five times less likely to be fatally injured if hit at 20mph than at 30mph – it's as straightforward as that.
"Ensuring the safety of Londoners and visitors is paramount, which is why we are introducing a safer speed limit for all road users in central London.
"It's clear the new 20mph speed limits will not only save lives but will also encourage Londoners to travel in more active and sustainable ways."