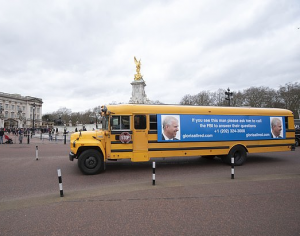 Credit Rob Todd
An American yellow school bus emblazoned with messages asking Prince Andrew to help a sex inquiry has driven past Buckingham Palace.
The bus made a handful of sweeps past the palace at the end of The Mall in Central London.
Its sides were covered with a message asking Andrew to explain his role in the Jeffrey Epstein sex scandal.
It read: "If you see this man please ask him to call the FBI to answer their questions".
Lawyer Gloria Allred, who represents some of Epstein's victims, was behind the stunt.
She has called for the prince to make a statement to investigators.
Her comments follow a plea from US lawyer Geoffrey Berman, who is leading the Epstein sex trafficking inquiry.
He told a news conference in January the duke had "provided zero cooperation".
Mr Berman said the FBI and prosecutors had written to Andrew, but he has – so far – failed to respond.
His friends, however, claim the prince is more than happy to help – but he's not been contacted.