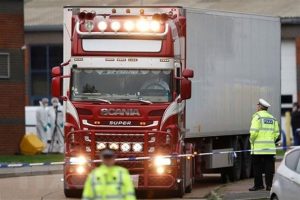 Police in Vietnam have charged seven people with people trafficking following the death of 39 migrants in the UK.
The migrants were found in a refrigerated lorry last October after arriving in Britain from Ireland.
The suspects were charged with organising and brokering illegal emigration.
Investigations revealed the accused had helped 67 people travel to Europe to work illegally.
The Vietnam News Agency also reported the government has asked for the arrest of one of the suspects now living in China.
The bodies of 39 people were found at an industrial estate in Grays, Essex.
The victims were all from Vietnam and aged between 15 and 44.
Police said they died of a combination of a lack of oxygen and overheating in an enclosed space.
Several people have been charged in the UK with manslaughter or assisting in illegal immigration.